Summer Field Research – Students' Projects – 2009
Kathryn Bailey
Anthropology and Global Health and Health Policy certificate, class of 2010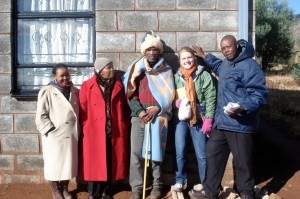 My research focuses on the health system in southern Africa from the perspective of former miners and their families. I am investigating a home-based care program that is a blend of corporate medicine (delivered by the mining industry) and humanitarian work through a non-profit that conducts home-based care visits. I am investigating questions such as: how does the integration of for-profit and not-for-profit care affect the structure of the health system, as well as the type of care delivered to patients and their communities? This past summer I worked as an unpaid intern for TEBA Development, a not-for-profit company that conducts home visits to ex-mineworkers, mostly suffering from HIV/AIDS and TB. I spent four weeks at two different TEBA field sites (Lesotho and Eastern Cape, South Africa), and will base my senior thesis on the ethnographic research I conducted there.
Elizabeth Chen
Anthropology and Global Health and Health Policy certificate, class of 2010
This summer I worked for the Pan American Health Organization in El Paso, Texas. While I was on the US-Mexico Border I worked specifically on projects related to chronic diseases such as childhood obesity and diabetes. I conducted large systematic reviews of obesity legislation in both the US and Mexico and compiled studies that use mass media campaigns to combat the obesity epidemic. In addition to my internship, I spent time outside the office learning from promotoras (community health workers) specifically trained to work with HIV/AIDS patients. These promotoras had a deep practical knowledge rooted in their work, and I learned a great deal from them about health disparities in general along the Border and about the importance of culturally appropriate care. I also had the privilege of working with the Teen Advisory Board of Thomason Hospital on the weekends. These teens opened my eyes to alternative ways of disseminating important information relative to public health. They educate their parents and peers and shared with me some of the horrific common misconceptions they hear when discussing topics like HIV/AIDS in their communities. These experiences will serve as the basis for my independent work this upcoming year.
Alex Gertner
Anthropology and Global Health and Health Policy certificate, class of 2010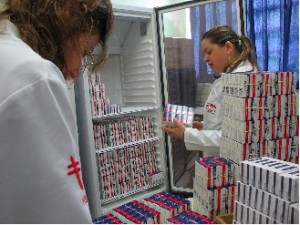 I am currently studying manifestations of health technology assessment and evidence-based medicine in Brazil. Last year, I conducted an anthropological inquiry into how the Brazilian government assesses health technologies for incorporation into its public healthcare system, observing the practices of Brazil's only health technology assessment company and interviewing public and private sphere professionals. This year, I am studying a model for evidence-based hepatitis C treatment in southern Brazil, which has been highly successful in cutting public costs. The treatment center is made possible through committed local leadership as well as innovative national policies, such as the public development and production of expensive pharmaceuticals through a Brazilian-Cuban partnership. The center is also a rich environment for the production of scientific evidence concerning the safety and effectiveness of hepatitis C treatment in "everyday" patients. Conversations with the center's employees quickly reveal, however, that they are more concerned with the ways in which they are "humanizing" care, rather than "rationalizing" treatment, by cultivating close relationships with patients through interest, kindness and affection. I am interested in this intersection of rationalization, humanization, evidence, access and care; how these conceptions are altered in practice; and how the different paradigms they insinuate affect (or fail to) patients' lives.
Joshua Franklin
Anthropology, class of 2011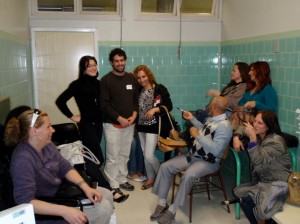 This summer I worked with a center for sex reassignment surgeries provided for free by the Brazilian health system located in a large federal public hospital in southern Brazil. In 2007, a legal action initiated by a group of transsexual patients from this public hospital succeeded in a federal court of appeals, forcing the Brazilian government to make sex reassignment surgeries available. The rationale, which referred to the universal right to health as well as the right to human dignity and freedom from discrimination based on gender or sexual orientation, raised questions about the meanings of fundamental rights and the way that rights discourses and gender norms shape public healthcare in Brazil.
During my time in Porto Alegre, I conducted interviews with the lawyer who represented the transsexual patient group and the federal appeals judge who authored the opinion in favor of the group, as well as other legal professionals and scholars working in this area. I also observed the treatment facility, interviewing the medical and psychiatric staff that worked there, and I gathered individual stories from patients participating in the program. I am interested in the ways that public healthcare is organized and access to healthcare resources is structured by the politics of gender identity and ideological struggles in the judicial and medical establishments. My research is focused on the unique experiences of transgender individuals, and how those experiences are mediated by institutions of care and the ideological commitments that shape them.
Jessica Lander
Anthropology and African Studies certificate, class of 2010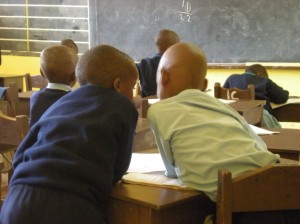 This summer, I immersed myself in the life of the School of St. Jude just outside the city of Arusha in Tanzania. The school was set up in 2002 by an Australian woman (Gemma Rice Sisia) to educate the poorest students in the area. Originally, Gemma's goal was to create a school for about 50 students – the school now educates over 1,500 students and spans two campuses including boarding houses for students starting in Standard four, and all completely free. While at the school, I filled my days with sitting in on classes–everything from art to computers -and talking to numerous students, teachers and administrators, guards and cooks. On school mornings, I woke at 6 am to ride the school buses and view the city of Arusha as we picked up students. I toured the local primary school and conversed at length with the headmaster of a local private school. On weekends I had the opportunity to visit the homes of three of the students, traveling high into the mountains and deep into the city slums. The conversations, observations and information I gleaned from my stay at St. Jude will form the basis of my Senior Thesis – an attempt to understand why 4000 kids show up at the gates of School of St. Jude to seek admission, what possibilities their families see in the education St. Jude offers, and whether the school can succeed in the long-term.
Amy Moran-Thomas
Anthropology, Graduate Student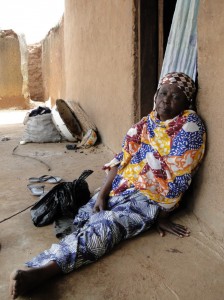 I am interested in comparative studies of parasitic disease and non-communicable illnesses such as Type II diabetes–which often remain outside the scope of global health interventions, despite the fact that their human costs now outweigh the mortality caused by infectious disease in many parts of the developing world. This summer I concluded the ethnographic research that I began in 2008 with the Guinea Worm Eradication Campaign in Ghana, a highly successful multi-million dollar program with dozens of international partners. Yet in the same village where this national program had a rigorous surveillance system to document and treat all leg sores caused by emerging guinea worms, people like Fussima (pictured in photo) had untended leg wounds caused by non-communicable conditions that refused to heal; she was diagnosed with diabetes three years ago, on the same day that the doctor told her he needed to cut off her leg.
In documenting the life stories of people who slip between the cracks of current care systems, my research tries to shed ethnographic light on the structures of prioritization and social meanings of contagion that underlie global health interventions. My dissertation fieldwork in Belize this year will be a continued exploration of these human struggles with chronic illness and the overarching questions they illuminate in global medicine.
Raaj Mehta
Ecology and Evolutionary Biology and Woodrow Wilson School certificate, class of 2010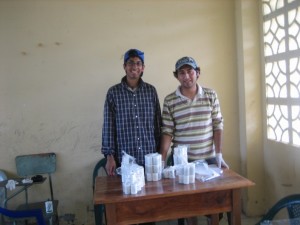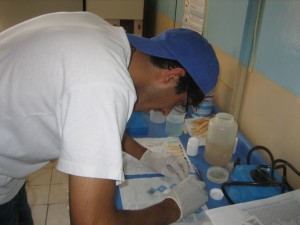 I traveled to Esmeraldas, Ecuador and Santa Cruz, Bolivia where I researched the biology and policy surrounding intestinal parasites, like roundworm and whipworm. For the first five weeks, I was out in the field with a team of doctors from Quito, collecting and analyzing samples from tiny fishing villages on the coast of Ecuador to gather data for my thesis (which will focus on the interactions between natural gut bacteria and helminths). For the next six weeks, I was in Bolivia, working with Save the Children as an anthropometrist, implementing a baseline nutritional study in the region, which includes work on determining parasite loads in children. I am very grateful to the GC members who shared insights with me on their previous neglected tropical disease research, and of course was very well served by everyone's advice on navigating three months in the developing world!
Josephine Yolisa Nalule
Molecular Biology and Global Health and Health Policy certificate, Class of 2010
I did my summer internship at Resources for the Future, a non-profit organization based in Washington, D.C. The project I worked for was the Global Antibiotic Resistance Partnership (GARP), which aims to address the challenge of antibiotic resistance by developing actionable policy proposals in China, India, Kenya, South Africa, and Vietnam. I was placed in Kenya, in the Kenya Medical Research Institute, under the supervision of Dr. Kariuki, a senior microbiologist. Together we made an attempt to collect information on the epidemiology of antibiotic resistance in hospital infections in Kenya. We acquired this information primarily from sentinel surveillance sites, laboratory data and published literature. This information was to be used, along with other data, to create a profile on antibiotic usage, mis-usage and resistance specific to Kenya. The findings of our research were presented at a two day conference that I helped organize, which included leaders in public health, medicine, government, and industry with specific interests in infectious diseases and drug resistance. Other presentations covered information on the burden of antibiotic-treatable conditions, levels of vaccination for the prevalent causes of bacterial infections, antibiotic use, antibiotic resistance, and the role of prescribing practices and self-medication.
With this wealth of information, GARP hopes to develop an evidence base for policy action on antibiotic resistance in each of these five countries and identify policy opportunities where research dissemination, advocacy, and information can have the greatest impact in slowing the development and spread of resistance.
Sonia Porter
Anthropology and Visual Arts certificate, Class of 2011
I am currently studying visual representations of suffering and the ethical issues surrounding the photography and social activism. While photography has a great communicative power, many commentators have criticized it for commodifying and even encouraging the violence and suffering it represents. As a photography student, I aim to examine these ethical challenges to photography as a medium for the representation of suffering and a tool to create social change. In my independent work, I will map the history of photography, its moral implications, and most importantly–its future. In doing so, I will examine concrete solutions to the problem of the representation of suffering and the possiblity of global re-sensitization to suffering and violations of human rights.
Olaf Sakkers
Anthropology and Global Health and Health Policy certificate, class of 2011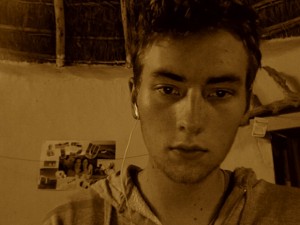 Based at a rural hospital in South Africa, my research is focused on understanding the interaction between religion at the hospital and the treatment and recovery of patients who are HIV positive as well as how conceptions of religion affect interpretations of health care and HIV stigma. Patients grapple with disease and suffering, negotiating different descriptions of the world given by traditional African religion and Christianity. Many patients associate the hospital with Christianity and their recovery on ARVs with the work of God. Religion is important to many of the hospital staff too, with nurses and patients gathering each morning to sing hymns and pray. The ARV rollout at the hospital has been successful, with almost 1000 people on ARVs, yet stigma around HIV persists and the hospital wards remain filled with gaunt patients infected with TB and HIV.
John Torrey
Religion and Global Health and Health Policy certificate, class of 2011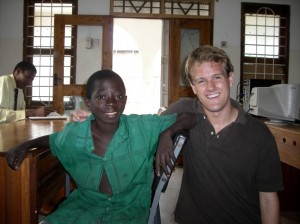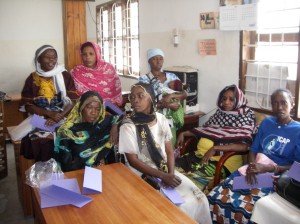 This summer, I spent ten weeks in Bagamoyo, Tanzania, a small town on the Indian Ocean about forty miles north of Dar es Salaam. I volunteered for a local NGO called UKUN that provides home-based care services to people living with HIV/AIDS in the Bagamoyo district community (comprising about 300,000 residents). UKUN provides essential care services to over 1,000 clients through organizing, training, and supplying a network of over 100 local volunteers, each of whom provides care to ten to twenty clients in their homes multiple times every month. UKUN also provides care services to over 5,000 orphaned and vulnerable children through coordinating support camps and other efforts. UKUN serves countless vital roles in the Bagamoyo District, providing clients with nutritional assistance, counseling and testing, transportation to the hospital, physical therapy, ARV monitoring, income generating opportunities, referrals to social services in the community, AIDS education in schools, and much more. They serve as the "eyes and ears" of the Bagamoyo medical community because they actually enter communities and residences. At the moment, UKUN is facing a funding crisis, so I spent most of my time writing letters and grants in an effort to obtain funds. I also went on numerous home visits and helped to transport clients to the hospital. Along with other volunteers, I set up what is now a regular support group for HIV-positive women. Separately from UKUN, I also taught and played with children at a local orphanage every weekday.
Alyse Wheelock
Anthropology and Global Health and Health Policy certificate, class of 2011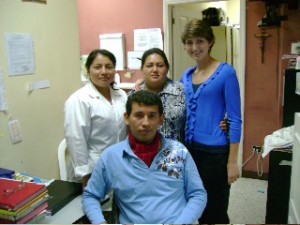 I spent this summer at Clínica Familiar Luis Ángel García, a small HIV/AIDS clinic within a larger public hospital in Guatemala City. The clinic provides free ARV's, regular medical consultation, laboratory tests, and psychological services to people of all ages living with HIV/AIDS. I spent my time at Clínica Familiar in varied ways, trying to familiarize myself with the many services of the clinic and beginning my project on a common opportunistic infection called Histoplasmosis. I observed the medical consultations of the adult doctors and the initial blood tests performed by the clinic psychologists. Outside of the clinic itself, I participated in the required workshops for new patients of the clinic and for individuals who have not been adherent to their medications. These observations offered a richer context to the project that I am conducting about Histoplasmosis, a fungal infection that has a high mortality rate among PLWHA's in Guatemala and in other regions of Central America. My project is based on interviews with individuals who have been diagnosed with the infection, doctors, and social workers at the clinic. In my interviews with clinic patients, I seek to learn more about the backgrounds of the individuals diagnosed with Histoplasmosis, their understandings and perspectives of the disease, and their culturally mediated understandings of the symptoms, diagnoses, and treatment of Histoplasmosis. My project also involves studying patient records and interviewing doctors to learn more about diagnostic and treatment procedures, as well as the infection's evolution in the clinic since its inception 20 years ago.
Dr. Mariana Socal
Public Policy Masters Degree Program, Woodrow Wilson School, class of 2010
I have been collaborating with the Grand Challenges project in the role of Medical Advisor. Beginning in 2007, the Health Secretariat of Rio Grande do Sul, the Solicitor General's Office of Rio Grande do Sul and Princeton University began a research partnership to explore the judicialization of health. Our data collection team was placed in the Solicitor General's Office, which is responsible for defending the state in these lawsuits. As cases passed through the office, a sample was taken for data analysis. The sample was selected by employees of the Solicitor General's Office according to which could be conveniently taken for analysis. I participate in the interpretation of this data and I recently collaborated in the creation of a new research database. My future tasks in the group will include the collaborative production of articles that describe the research process and summarize the data collected so far.
Peter Locke (Postdoctoral Research Associate for the Global Health Program in the Woodrow Wilson School's Center for Health and Wellbeing)
My dissertation, entitled "City of Survivors: Trauma, Grief, and Getting By in Post-War Sarajevo," examines how the urban poor in Bosnia-Herzegovina cope with trauma and rebuild their lives in a new post-war state and economy. During the coming year, I will focus on publishing articles based on my work in Sarajevo and on transforming my dissertation into a book manuscript. I also intend to broaden my medical anthropological work beyond Bosnia by exploring new global health initiatives–in particular, changing patterns and institutions of mental health care–in the context of new political economies and the spreading influence of the EU in post-socialist Eastern Europe.
My dissertation, based on twenty months of fieldwork with relief agencies and their beneficiaries, charts the impact and sustainability of psychosocial support services–originally funded and delivered by international humanitarian organizations, now provided by local NGOs as foreign engagement in Bosnia declines. I show how grand political and mass-therapeutic interventions–executed under the rubrics of reconciliation, democratization, and market reform–fail to incorporate the local expertise gleaned by ordinary people struggling to rebuild social worlds and to sustain deeply held values. Sarajevans are redefining the psychiatric language of trauma to make moral and political claims and to convey the persistent intractability of the loss of cherished relations of care and ways of being. In accounting for this human agency, my research demonstrates how anthropological evidence can help to ground debates about international humanitarianism and democracy-building, reconfigure social scientific and clinical approaches to trauma, and generate a new approach to post-war social repair that better incorporates the values, needs, and desires of survivors.