Grand Challenges in Global Health
The Future of HIV/AIDS Treatment and the Social Determinants of Health
Research reports, summer 2010
Adam Bradlow
Princeton '11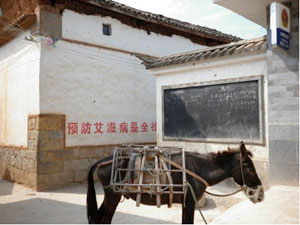 This summer, I worked for a month as an outside evaluator for the Mpfuxelelo (MPF), an HIV/AIDS peer education initiative. MPF was based out of Tintswalo hospital, a large rural health center in Mpumalanga province. MPF was a unique initiative as it was focused on improving quality of care for HIV/ AIDS patients by focusing on the psycho-social aspects of the disease; by contrast, many institutions in the area are focused on delivering quantity of care. I was tasked with the challenge of writing a report assessing whether MPF was succeeding in improving quality of care for those patients who entered the hospital.
Allison Daiminger
Princeton '12
Huamanzaña, where I did most of my research this summer, is a small town of approximately one hundred people located in Peru's rural northern highlands, a two-hour drive away from Trujillo, the nearest major city. I spent nearly three weeks this August documenting the diet of community members in an attempt to determine some of the cultural, educational, and practical factors shaping their food choices, as well as to draw connections between nutrition and health in the region. During an initial visit to the town in January of 2010, I noted that the typical resident's diet seemed to lack several key nutrients; my goal upon returning in August was to take a closer look at their cuisine to determine whether that initial assessment was correct, and could be found reflected in their health, or if I had somehow failed to see the full picture.
On the ground, I spent much of my time in the kitchen watching the women of Huamanzaña as they prepared meals for their families, as well as talking at great length with them about cooking, food, and health. In addition, I visited various markets, restaurants, and food stores in the region and interviewed health workers, teachers, and others on the subject of diet and nutrition. I found that during a typical day, the average town member eats white bread and noodle soup for breakfast, pasta or rice with potatoes and a small piece of chicken or an egg for lunch, and something similar for dinner. Occasionally, these meals are accompanied by a salad of beets and carrots, tomatoes and cucumbers, or shredded lettuce, and fish or guinea pig sometimes substitutes for the chicken, though meat is consumed only a few times per week on average. Without dairy products, people in Huamanzaña consume very little calcium. Likewise, with so much emphasis on refined grains, and relatively little produce, they are low on fiber and many vitamins.
I then set about trying to understand the reasons for these food choices. Some are quite practical: without refrigeration, it is impossible to keep milk, cheese, fruits, and vegetables for very long before they go bad. Cost per calorie is also an important factor; it's much cheaper to eat your fill of starchy foods like rice and potatoes than to eat a comparable amount of calories worth of produce and lean meats. Because the nearest market is an hour away, and a trip into town often takes the better part of a day, townspeople are also limited to foods they can raise or grow, or that can be easily transported and then stored for up to several weeks at a time. Yet lack of access cannot in itself explain all of the food choices made by Huamanzañans. For example, many varieties of beans and lentils, as well as grains such as barley and wheat, are available at a relatively low price in the nearest town, yet far less nutritious staples such as rice and potatoes are used much more frequently. There seem to be several reasons for this discrepancy between availability and consumption; chief among them are tradition, taste preferences, and education. Most women learn to cook from their mothers and are very reluctant to incorporate new dishes or techniques into their cooking repertoire, for instance. Coupled with a lack of basic nutritional knowledge, they see little reason to change habits that have been decades in the making.
Unfortunately, the health consequences of these food choices are numerous. Perhaps most noticeable is their short stature, a reflection of stunted growth due to poor nutrition during childhood. Other problems include osteoporosis, developmental problems among young children, and growing rates of obesity and overweight in the community.
Moving forward, I plan to expand upon this research for a Junior Paper in the anthropology department, most likely combining my ethnographic data with research on health, agriculture, and cuisine in the region at large.
Angelina Caruso
Princeton '12
This summer, I interned in New York City at Human Rights Watch in their Health and Human Rights Department. Throughout the summer, I did research about the right to health, the health risks that marginalized populations (like women, children, members of the LGBT community, prisoners, drug users etc) face, and the need for advocacy in the face of discrimination and inadequate access to health care. I worked with the various members of the department on their research initiatives and in doing so learned about topics like drug rehabilitation centers in Asia, lead poisoning in China and Nigeria, the right to palliative care, and the connection between intravenous drug use and HIV.
My long-term project for the summer was a transgender health report. I did the background research for a forthcoming report about gender reassignment surgery (GRS) and an individual's right to change his or her gender on legal documents like passports. I researched the current state of GRS in Europe as a whole and specifically in the Netherlands – which, along with Chile, is the focus of the HRW report. HRW is concerned with the legal requirements of full surgery resulting in infertility and of non-married status (in countries that do not recognize same-sex marriage) as prerequisites for legal recognition of the gender change. Though the Netherlands is an extremely liberal and progressive state, the law still states that a biological man who is transitioning to be female cannot be able to father children in the future. My research highlighted the importance of state commitment to human rights (LGBT rights specifically, in this case) as well as the impact that social stigma and ignorance can have on policy. I learned a great deal about the intersection between advocacy/human rights and public health this summer and hope to continue such research in the future!
Amy Moran-Thomas
Graduate student, Department of Anthropology
Diabetes mellitus is now the leading cause of all deaths in Belize, making this Central American country profoundly emblematic of an epidemic in the developing world today. Seeking to account for the ways that realities of chronic and infectious diseases interface in people's everyday lives, my research traces and contrasts the available care systems for two nutritionally-related diseases, one contagious (parasitic infection) and one non-communicable (diabetes). Based on a year of fieldwork in a Garifuna village of southern Belize, I explore the difficult paradox of living with a popularly imagined "disease of affluence" in contexts of poverty and transition, where care for chronic illnesses remains in sight, but moves continuously in and out of reach. Rather than providing the sole possibility of growth and health, new patterns of consumption (including both foods and medicines) imported from the developed world are deeply implicated in the tangled webs of poverty and disease. Through the use of case studies, I examine the way policy narratives and medical technologies are being translated into the local tissue of common sense. Empirical details, fragile institutions and their lived contradictions begin to draw out the tensions of relationships and chronicle the surprising means–intimacies, pills, ghosts, adoptions, prosthetics, miracles–through which people actually sustain themselves (or, more starkly, the capillaries through which everyday survival sometimes fails). These ethnographic accounts ultimately chart the unexpected ways that emerging symptoms of diabetes are being treated, as well as what it means for diabetes itself to be a key symptom of radical social changes in an unevenly globalized world.
Celeste Alexander
Graduate student, Department of Anthropology
Over the summer I had the opportunity to perform preliminary research on the topic of microfinance in urban and peri-urban areas in the East African countries of Kenya, Tanzania, and Uganda; as well as in Ghana (West Africa). ¬In connection with this, I also worked with one of the founders of Women's World Banking (WWB), a large microfinance network that began over 30 years ago, researching the history of that organization in these countries. By considering microfinance historically as well as ethnographically, I gained preliminary insights on how aid discourses and practices may have changed or have been utilized differently over the years.
I carried out a number of recorded interviews with people who are or were affiliated with Women's World Banking. I also met with many people who work in related areas of interest but are not affiliated with WWB, and with borrowers and individuals in a variety of other contexts who had direct or indirect experience with microfinance.
As a result of this research, I am closer to determining a field site for future dissertation research. I plan to work in East Africa, particularly in Kenya and Tanzania, as I developed fruitful relationships and identified related topics of interest in these countries. My interest in microfinance is broadly rooted in its increasing connection with many other facets of "development" work. Microfinance and other forms of lending have come to constitute one of the principal approaches to "development" work in and across a variety of sectors. Yet as I saw through my research this summer, microlending and its providers differ (often a great deal) from one place or one institution to another, and there have also been significant shifts in the goals of particular institutions over time. There are also ways in which shifting discourses and practices have not resulted in smooth translations or transitions. Loans in certain contexts are understood as (or treated strategically as) gifts that are not to be returned, particularly if perceived to be provided by government or by foreigner lenders.
Microfinance is perhaps also often imagined differently by foreign lenders and investors (and their publics) than it is by local lending institutions and borrowers. The term microfinance itself paints (with its prefix "micro") a picture of service delivery to those with little or no financial assets, yet loan officers were often the first to tell me that microfinance is not for the "poorest of the poor" but for those they termed the "productive poor." At a time when other forms of aid may be dwindling, microfinance can at times sound like a magic bullet, yet a focus on the productive poor (a term that does not necessarily emphasize the likelihood of "emergencies" that can easily and suddenly force one out of such productive positions) leaves out much of the population that international aid has historically claimed to serve.
However, I met a number of borrowers who were able to expand their small business significantly with the assistance of microloans. In fact, some who started out with very little were able to use loans to expand their businesses to the point that they could hire others and even (in more than one case) travel frequently to and from China to purchase small items that could be sold back home for surprisingly significant profit margins. Thus there are certainly some members of the "productive poor" who did seem to benefit from microloans, though it is necessary to consider a variety of potential factors that may have encouraged this, rather than simply attributing it to an idea of microfinance as a consistent set of practices that will always result in such outcomes.
Microfinance is also often thought to encourage financial "empowerment" or "self-sufficiency," but even with a highly successful business that benefits from loans, the results can be interpreted in more than one way, as the ideal client is often envisioned as one who never ceases taking out larger and larger loans. It is therefore also crucial to consider risk and the potential for increasing debt.
At one point during my research, I was able to spend over a week working fulltime with "field officers" from a number of different branch offices of a single microfinance institution. This gave me a sense of the form that both group and individual microfinance training and "collections" meetings take in practice. I also received informal training in branch offices. In particular, one collections meeting stands out for me in regards to the risk involved for the "productive poor." A woman at the meeting informed the group that she was not able to pay that month as she had recently been robbed. Understandably the loan officer and the group were not pleased because under the group lending model, the other members were required to cover her loan payment for the month. The group was lectured about how they should not let this person ruin it for the rest of them. "Don't let [another person like her] let your dreams die." The delinquent borrower was in tears. She later confided to the loan officer that the main reason she was not able to pay that month was because her husband had tested positive for HIV and she had to use the money to pay hospital fees, but she didn't want to tell the group. The loan officer told her there is "no point in crying– contribute what you can." At a different meeting two of the borrowers were themselves in the hospital and I was told by the loan officer that the loans still have to be paid on time. The same held true when a borrower lost her vending stand because the government tore it down to expand a road. Such emergencies were thus not uncommon, and the package of financial services that one might expect "microfinance" (as opposed to strictly microlending) to offer, did not always provide assurances against such emergencies.
While the term microfinance indicates financial services beyond lending (such as savings and insurance), in practice it seemed that "savings" often meant money set aside as a form of collateral in service to the loan, rather than for the purpose of saving alone. Life insurance was often part of a microfinance package (particularly in the case of group loans), but health and accident insurance did not appear to be standard practices for most of the microfinance providers that I visited (though various types of insurance were often available to "clients" as an extra for a price).
While microfinance is often championed for its lack of traditional requirements such as owning property, etc., this often appears to be compensated for by more stringent requirements in other areas in lieu of traditional collateral. For example, one MFI required that an installment of 10% of the loan amount be put down upfront, along with a loan application fee, insurance, and attorney fees. Two guarantors were required in addition to being a part of a group, and a thorough accounting of all property owned by the borrower was performed. (Some microfinance providers are more thorough about this than others; one borrower said that the loan officers literally took an accounting of his property "down to the spoons.") Local community leaders and attorneys were involved so that if impounding property became necessary, it could more easily be facilitated. And loan offices in and around slums stocked impounded property in the form of old radios and dusty furniture.
That said, I did come across at a microfinance provider that does not require guarantors or security (at least for smaller loans) and attempts to hold on to a social mission of serving those who are unable to meet such stringent requirements, despite the organization's need to recover loans and handle competition and its own plans to transition into a bank. Offering a perhaps unique model, this organization operates in one peri-urban area and runs a community health clinic in addition to a scholarship program for girl children. Whether this is due to its structure as an NGO, to external sources of funding, to good local leadership or to some combination of these and other factors, is unclear without further research. However, this illustrates the fact that there are many different practices and types of organizations that fall under the term "microfinance."
The role of government in microfinance also at times proved elusive. In more than one country that I researched, the government does not necessarily perform a primarily regulatory or capacity-building role but is also involved in direct lending and the promotion of microfinance that the government itself has a large financial stake in. In one case, the majority of the government microfinance funding was provided by the United States and the payback rate was so dismal that the government organization was becoming financially insolvent. There were also questions raised about the relationships between the recipients of these loans and those holding high positions in the MFI, particularly as large amounts of money leant were not repaid and strategies to recover these unpaid loans proved lacking.
Governments often called for more commercialization of microfinance and required certain profit thresholds of these financial institutions. Likewise large microfinance networks like KIVA have their own such thresholds. Sustainability is of course a concern and regulation is necessary–otherwise with such a proliferation of providers under the name of "microfinance," there is the real danger that some will put up an open-for-business sign and quickly abscond with down payments and fees. But it is also interesting to consider the ways in which these requirements towards commercialization and profit-making may influence the missions of lending institutions. An MFI that I visited said that they could not be a part of KIVA because the bigger numbers "would have taken us outside the community."
There were in fact many discussions of "mission drift," alongside shifts in the shape of the institutions in question. NGOs often sought to shift to MFIs, to savings and loan institutions (or non-bank financial institutions), and ultimately to banks. There were reasons for this. For example, savings sometimes proved a liability to an institution that was not a bank, and thus not able to loan out the savings in support of the institution itself. While legal requirements may have been a factor in "mission drift," other factors such as competition and shifting financial opportunities were likely also at play. There were shifts from guaranteeing loans, training, capacity building and technical assistance, towards more strictly profit-making. This sometimes involved complete fissures within institutions as they grew and banking functions became separated from other functions associated more with assistance. Client bases also shifted. In one case, rural loans were being actively replaced by urban ones. Small-scale group lending gave way to higher numbers of large individual loans, and then when the financial crisis hit, group lending became popular again. Other changes in mission could be seen explicitly in an MFI's logo or mission statement. One such logo at first pictured women borrowers; this later shifted to a picture of a family; and finally to a streamlined image and logo that did not picture any specific group of borrowers at all. Shifts occurred not only in reference to gender but also in reference to socio-economic status–many microfinance providers seem to have shifted from an emphasis on low-income borrowers to one of low- and medium-income borrowers.
While "women's empowerment" was often invoked, as I have mentioned, in many cases a focus on women had shifted to include men. While this is not to say that women's empowerment is no longer a focus of many microfinance providers, it may be that it is focused upon differently. Husbands were sometimes even required to be the first guarantor on a wife's loan. At one point, one of my interlocutors, who had herself been prominent in microfinance in her country, argued that there should be no "women's banks" at all. She said that "when you marginalize women" in this way, people will say to a woman whenever she needs a loan to simply "go to the women's bank–they have less stringent conditions. But there is no such thing in banking. It is a business." Also, I was told that women proved more likely to participate in microfinance largely because they simply represented a large number of the "micro-entrepreneurs" and also because many had other "traditional" ways of pooling resources that were often utilized by lenders to train women on group lending. The extent to which women's empowerment was the concerted focus of the lenders versus being a convenient marketing point was therefore unclear.
I frequently heard about the influence of international dialogues and conferences upon the organizations in question. The 1975 International Women's Conference in Mexico City spurred the formation of WWB's international network. The UN conference on the end of the Decade for Women in Nairobi in 1985 also proved significant for a number of microfinance providers. There were also regional dialogues and even an example of an organization from Latin America that provided an example of how to transition from being an NGO to a regulated MFI. Therefore it is clear that from an institutional perspective transnational networks of various kinds prove highly influential.
In conclusion, this research makes clear that the meanings of the discourses of microfinance are perhaps as various and contingent as the practices that fall under this catch-all term. By beginning to contextualize these discourses and practices in state, regional, and institutional localities and networks, it is possible to discover some points of divergence worth considering in discussions of microfinance that have historically been dominated by a polarized discourse consisting on the one hand of highly specific impact studies centered around particular financial institutions and on the other hand, broad generalizations that assume microfinance consists of a singular set of practices, resulting in consistent effects across a variety of institutions and cultures.
Courtney Crumpler
Princeton '13
The Arts of Healthcare in Brazil: Alternative Approaches to Prevention and Education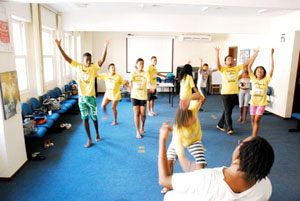 My field research this summer focused on the "Companhia da Saúde", a group of adolescent performers who use street theater, song, dance, colorful costumes and circus techniques to present messages about the importance of preventing AIDS and other STIs in a fun and creative way. This group is a project of the Brazilian Interdisciplinary AIDS Association (ABIA), an NGO which coordinates projects that confront HIV/AIDS by fostering solidarity and mobilizing the public to fight for treatment and defend the rights of those living with the disease. This summer I worked to assess the scope, effectiveness and importance of the Companhia da Saúde by observing the group's practices, interviewing as many students, teachers, and staff as possible and reading through the group's archives.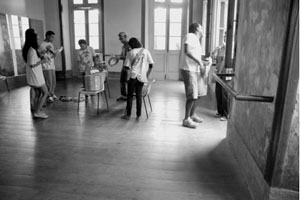 My research centered around the question: "What resources outside of the hospital or a professional public health intervention can be used to reduce the need for ARVs and prevent high-risk behaviors that spread AIDS and other STIs?". I found the Companhia da Saúde to be just that type of resource, as it makes important health information accessible to youth and other groups for whom traditional modes of communication have failed in the past. In working with the group I observed factors such as age and literacy rate as social determinants of health. They influence people's health outcomes by determining their level of access to health knowledge. I also observed how the group developed a sense of health citizenship within its participants, helping them navigate adolescence by fostering a sense of identity and common purpose within each individual. Their work in company helps these students understand that they are contributing members of society whose voices should be heard and in being respected they learn themselves to respect in a new way.
My time working with ABIA showed the importance of developing social responses to health issues. The Companhia da Saúde represents a creative model for continuing to spread the prevention message, engaging the public in a way no other medium can and providing vital information for maintaining sexual health and preventing HIV/AIDS. Just as the group addresses a public health issue that affects those outside of its midst, it positively influences the lives of all who participate in it.
John Torrey
Princeton '11
I spent eleven weeks in Tanzania this summer conducting senior thesis research on how churches and mosques engage with HIV/AIDS education and care-giving while volunteering for a local HIV/AIDS NGO. I was based in a small town on the coast called Bagamoyo but my research took me all over the country – from Dar es Salaam to a very remote village in Western Tanzania to northern Tanzania near Mt. Kilimanjaro and many places in between. I made some close local friends and managed to feel quite assimilated into Tanzanian culture by the end of my stay! My volunteering involved writing grants for the HIV/AIDS NGO, which taught me a lot about problems with the "system" to get rich-country funds to small health operations in poor countries. By far the most educational aspect of my summer, however, was my research.
In my research, I found out that churches and mosques play a big role in the care and social support of poor Tanzanians when they fall ill. Religious organizations often have formal healthcare activities and typically provide their members with informal social support networks. However, with HIV/AIDS this has not always been the case. As late as 2001 church and mosque leaders were generally stigmatizing of people living with HIV/AIDS, viewing AIDS as a punishment from God for sin. They did not offer education about AIDS, and did not provide care for people suffering from the disease. In 2001, national religious leaders initiated a campaign to educate mosque and church leaders about HIV/AIDS and there has been a major cultural shift toward active church and mosque engagement with the disease. Church and mosque leaders around the country have used their highly strategic social positions to educate people about HIV prevention, to fight social stigma, and to provide care resources to people living with HIV/AIDS. Of course, the picture is still complicated and religious-organization stigma remains in places. I hope that my thesis can make a positive contribution to the dialogue around how religious organizations can be better brought into the fight against HIV/AIDS in Africa and in countries worldwide!
Josh Franklin
Princeton '11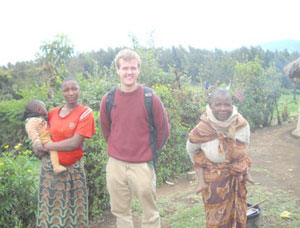 I spent three months this summer conducting ethnographic fieldwork in Porto Alegre, cities in the greater Porto Alegre area and the interior of Rio Grande do Sul, and Rio de Janeiro. The research, a continuation of work I began last summer, will become the basis of my senior thesis in anthropology at Princeton University, on access to sex reassignment surgery in the public health system in Brazil. I hope to understand patients' treatment trajectories both in terms of broad contemporary debates about transgender identities, transgender health, and psychiatry, as well as a specific historical moment in Brazil when judicialization–litigation surrounding the constitutionally guaranteed direito a saúde–is an emerging, contested space where Brazil's evolving public health system takes shape. Crucially, I hope to use the rich lives and social realities of patients as they access publicly funded sex reassignment surgery to illuminate the complex and contradictory discourses that animate the institutional actors in contemporary Brazilian healthcare.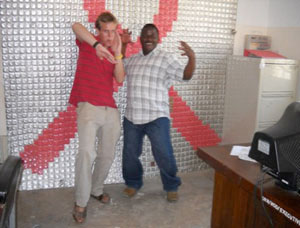 I spent the majority of the summer in Porto Alegre, where my fieldwork was based at the Hospital de Clínicas, a prestigious facility linked with the Universidade Federal do Rio Grande do Sul. I observed the biweekly group therapy sessions that patients must attend at the gender identity program, as well as various individual consultations and two surgeries. I interviewed all of the professionals working on the program's interdisciplinary team–a psychiatrist, a psychologist, a social worker, an endocrinologist, and a surgeon–to understand the treatment philosophy and their perception of challenges in the field. I then accompanied several patients outside the hospital, meeting them for informal conversations about their lives and experiences. I visited patients, some of who live hours outside of Porto Alegre, in their homes, and met their families, intimate partners, and coworkers. I talked with several patients about their experiences in their religious communities, and I participated in one patient's church group. I visited patients who were recuperating from their surgeries, and we talked about their hopes and expectations.
Especially having followed some patients for over a year, I learned a great deal about how access to the clinic and the experience of treatment are contingent on patients' social contexts, and also how the treatment impacts patients' lives and networks of social support. I have begun to chart the social realities of this implementation of the right to health. This work will become the basis of my senior thesis, which will explore the complex and ambivalent meanings and effective practices of the right to health–a right couched in a neoliberal logic, but one that also engenders a reconfiguration of the state, the patient-citizen, and the market. My thesis will take up the challenge of contextualizing the stories of this marginalized group in the broader context of Brazilian health politics.
In terms of my personal experience, this summer has significantly benefited my Portuguese fluency and crystallized my interest in continuing engagement in Brazilian studies. I plan to return to Brazil after graduation to continue working cross-culturally and across disciplines to learn about medical subjectivities, gender, citizenship and the right to health in Brazil.
Kulani Jalata
Princeton '12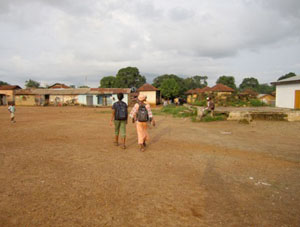 This previous summer, I researched from mid-June to mid-August in Koidu Town, Kono District, Sierra Leone for the National Organization of Wellbody (N.O.W) of the Global Action Foundation (GAF) and interned at their non-profit clinic in Koidu. In particular, I conducted ethnographic research on N.O.W's HIV/AIDS Home-Based Health Work Program, a new health program that began in November 2009 with a focus on providing free ARVs and counseling to people living with HIV/AIDS (PLWHA) within the community of Koidu. My focus was two-fold: 1) to study the impact home-based care makes in treating PLWHA; 2) to understand the outlooks and the daily activities of community-health workers.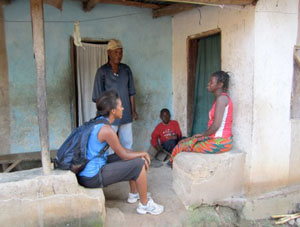 The home-based program consists of four community health workers (CHW) who walk bi-daily on routes to visit and administer DOTS to a total of 38 PLWHA. These PLWHA also have access to free healthcare from N.O.W's clinic in Koidu. I had the opportunity to shadow all of the CHWs on their treks and to also meet all of their patients. By conversing with the CHWs on their long routes through the hilly region of Koidu and through open-ended interviews, I learned about their life stories, experiences during the past brutal Sierra Leone civil war (1991-2003), struggles with HIV/AIDS, and present outlooks about their work and lives in general. In addition, I was able to get to know most of the PLWHA in the program and to learn about their life histories and battles with HIV/AIDS.
In general, I observed that the work of the CHWs of the HIV/AIDS Home-Based Health Work Program was one in which awareness about the disease was being raised throughout the community, stigma was being combated, PLWHA were attaining the social support they needed, and adherence to the ARVs was increasing. What was also an important finding was the context of economic hardships being faced by the PLWHA, CHWs, and others in the community as well. Although the PLWHA were very appreciative of the social support and free medical services from the clinic that the CHW program was providing, their joblessness and inability to pay their children's school fees and to adequately feed themselves and their families were issues frequently brought up throughout my time in Koidu.
What I for now have concluded is that N.O.W of GAF is making a substantial impact on the lives of the PLWHA they are assisting. But because health is not a single entity and is invariably connected to one's food-intake, educational opportunities, and economic situation, there is still a need for a more holistic approach to combating HIV/AIDS in Koidu. But although N.O.W of GAF realizes this and does desire to address the needs of PLWHAs more holistically, because it is a small grassroots organization, it is finding it difficult to compete with larger, international organizations.
Olaf Sakkers
Princeton '11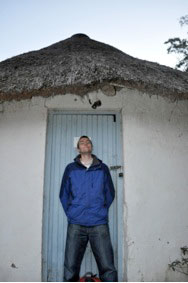 Based at a rural hospital in South Africa, my research is focused on understanding the interaction between religion at the hospital and the treatment and recovery of patients who are HIV positive as well as how conceptions of religion affect interpretations of health care and HIV stigma. Patients grapple with disease and suffering, negotiating different descriptions of the world given by traditional African religion and Christianity. Many patients associate the hospital with Christianity and their recovery on ARVs with the work of God. Religion is important to many of the hospital staff too, with nurses and patients gathering each morning to sing hymns and pray. The ARV roll-out at the hospital has been successful, with almost 1000 people on ARVs, yet stigma around HIV persists and the hospital wards remain filled with gaunt patients infected with TB and HIV.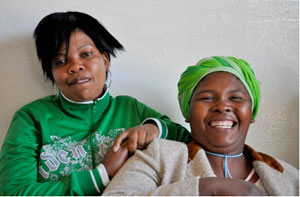 I have conducted research during three distinct phases. The first phase took place during the Summer of 2009. I spent an initial 10 day period developing relationships with the hospital staff, learning about the hospital's ARV programme and religion in the community and conducting a series of interviews with nurses and patients. During the second phase, at the start of the Summer of 2010, I followed up on earlier interviews, gathering data about the hospital and the community and travelling to a similar hospital in a different province as a comparison. The final phase (phase III) of research occurred at the end of the summer of 2010. I carried out an additional phase of interviews, this time mainly focussing on the hospital staff with the goal of understanding the perceptions that staff have of patients and religion in the community as well as understanding the staff's religious practices. In addition, I collected drawings by patients and hospital staff of HIV and took photos of the hospital grounds.
At this stage in my writing, I am currently transcribing the hours of interviews that I have recorded. My goal in my writing is to foreground the patient narratives in the beginning section of the thesis. After that, I will give background about the historical and political landscape in which the hospital is located and introduce my theoretical framework. Beyond that, I will discuss the interactions between hospital staff and doctors with a focus on the points of comparison and metaphors that are used in ARV counseling for patients and the perceived and actual role of traditional healers as an alternate to government-provided hospital and clinic care. A model that I wish to use for the analysis of hospital staff is the model of a "community of practice" developed by Lave and Wenger which focuses on how new members of a microcommunity are integrated and how hierarchies function around the performance of a particular practice (in this case health care provision). In addition to these narratives and subsequent analysis, I hope to introduce a visual and perhaps even audio component to my thesis. I have dozens of photographs of the hospital, patients, staff and surround locale. I would like to include these throughout my writing and also possibly incorporate recordings of church services and morning singing and other audio materials.
Sarina Dutta
Princeton '11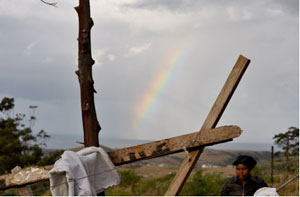 Over the summer I interned at Philani Child Health and Nutrition Center just outside of Cape Town, South Africa. Philani has six centers based in the township of Khayelitshia, which used to be an illegal squatter camp. Today, Khayelitshia suffers high rates of malnutrition, HIV/AIDS, and poverty. Philani is a community-based non-governmental organization founded by Dr. Ingrid le Roux focused on providing nutritional support to underweight and malnourished children and their mothers. Founded in 1979, Philani is one of the older NGOs in the area due to its members' diligence, effectiveness and flexibility. Over the span of 30 years, the foundation has grown to include programs intended to provide women, mothers, children, and orphans with education, training, income-generating projects, and dental care. Through its multidisciplinary efforts and community support, Philani has brought change and hope to the estimated 1 million living in the larger area.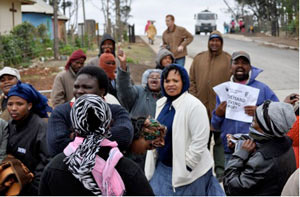 I spent my time at Philani helping the organization's dietician. I spent each week visiting the six clinics run by Philani. On a weekly basis, Philani hands out milk, porridge and soup to families in order to feed their small children. Each child is weighed and their weight is plotted according to their age. Malnutrition, contrary to popular belief, is not easy to identify unless the child is weighed. My job was to weigh each child as they come in, plot their weight, and, after they see the doctor, hand them their food. I handled the charts of each child and most showed promising weight gain early in life, but then their weight dropped significantly after about six months. It turns out the government provides milk each month to mothers for the first six months of a baby's life (which also builds a dependency on formula rather than breast milk). However, they often give too much milk each month, and so the mothers sell the leftover cans of milk rather than save it. They are then left with no milk to give to their children at the end of six months and thus the child's weight drops significantly due to lack of milk and an unhealthy dependence on solid food. This seems to be one of the most common problems for the children who come to Philani. However, after a few of months of receiving Philani milk and porridge, the child often gains weight again and is discharged. Philani's well-timed nutritional intervention is monumental in the health of the child.
My time at Philani opened my eyes to the shortfalls of government interventions– the discrepancy between policy and reality, and the possibility of immense impact by small organizations such as Philani. Yet my experience sparked a number of other questions: What are the causes, implications, and consequences of malnutrition and poor diet? How has the concept of nutrition (and malnutrition) changed over time? How can government policies be changed to address the discrepancies of reality? How does malnutrition fit into broader issues of health and nutrition?
Sojung Yi and Alan Utria
Princeton '12
With one of the highest rates of HIV/AIDS in the world, South Africa appears to face an overwhelming task of providing treatment and aid to address this major public health quandary. However, these numbers and data are not the simple measurement of the disease's prevalence, but rather a reflection of complex, social issues entrenched within society. These issues range from food insecurity to increasing rates of teenage pregnancies. During our summer internship with Nkanyiso, an NGO based in Johannesburg, South Africa, we began to understand and see how treatment is not always about immediate care but just as importantly about recognizing the various social, economic and political pressures that shape the experience of HIV/AIDS in South Africa.
In particular, we helped train schools and communities in Limpopo, Soweto, and Orange Farm how to create and maintain gardens that can then produce nutritious food for children. Instead of distributing meal packages that may be insufficient or outdated, Nkanyiso encourages communities to develop gardens as a reliable, sustainable method of securing food. Hunger or poor nutrition have negative effects on a child's learning abilities, so this school food program not only solves a practical issue of feeding hungry children but also encourages students to stay in school, learn effectively, and succeed.
Nkanyiso also provides after-school programs where students learn about a broad range of topics, including self-esteem, leadership traits, avoiding peer pressure (especially in response to drugs, alcohol, and unprotected sex), and self-management skills. Most of our responsibilities at the NGO revolved around researching, preparing, and implementing the curriculum for these programs.
Learning about various social determinants of HIV/AIDS in class reminds us of the immense complexities in addressing issues of global health and community development. Spending a summer in South Africa confirmed these various factors and illuminated unexpected ones, while also "personalizing" HIV/AIDS through the individual stories we encountered. Nkanyiso's sustainable, organic model of promoting food security in South African communities in conjunction with education programs serves to strengthen the health of its people and their fight against HIV/AIDS.
Sonia Porter
Princeton '11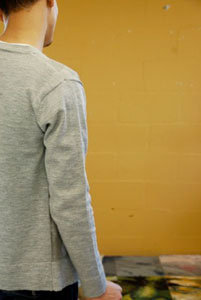 This summer I interned at a community health organization in Khayelitsha, the largest township outside of Cape Town, called Philani Child Health and Nutrition Project. The organization was started to target malnourished babies, and recently launched an income generation project for their mothers as part of this goal, teaching them to weave, print, and such so that they could then sell their goods and make money in order to provide for their families. During my time at Philani, I was also able to conduct a bit of side research that allowed me to delve into questions about the capacity for creativity in resource-poor settings, the perceptions that surround the inhabitants of Cape Town's townships both inside and out, and the nature and efficacy of the increasingly popular income generation project model. In writing my anthropology senior thesis this coming year, I hope to refine my analysis of these broader topics, and, more importantly, to give voice to the stories of those whose lives they impact most.
Raphael Frankfurter
Princeton '13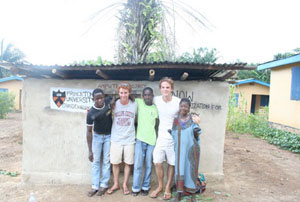 This summer, based in a remote city in Sierra Leone largely destroyed during the country's civil war and in connection with a small primary-health clinic, I conducted ethnographic research on the lives of the region's civilian war-wounded and amputees. Housed in isolated camps by a Norwegian NGO after the war's end, the hundreds of inhabitants of these 'Amputee Camps' face destitute poverty, food insecurity, high unemployment, poor healthcare and little hope for improvement. I was interested in exploring traumatic memory and chronic pain: is there a culturally bound variant of PTSD that can and should be addressed as a healthcare issue? Is chronic pain in the amputees' wounds a serious obstacle to improving life-chances, are the etiologies of this pain medical, and is there a metric that can be used to assess it? How are traumatic memories experienced in a context of day-to-day suffering and poverty? By engaging with these questions, I also studied the effects of post-war economies of aid on one of the poorest groups in the country, and how Western ideas of 'the disabled' were exported and appropriated into the amputees' identities.
Through collecting life histories and pain-narratives, I learned that, for many, chronic pain is a complex manifestation of traumatic memories, fear at bleak future, depression and pain because of food insecurity and frustration at their unproductivity and limited capacity for work–much more so, I believe, than neuropathy. In response to my findings, I worked with a partner to implement a pilot micro-livestock program in three camps, and trained individuals with some of the worst amputations to tend and rear meat-goats in a manner suitable for their disabilities. I hope that this work shows that a beneficial intervention for this destitute population cannot be short-term, pharmaceutical, or rooted solely in Western psychiatric knowledge, but that community-level initiatives can be effective in improving life-chances and alleviating suffering for the war-wounded, and address their real priority: the trauma and struggle of everyday life.